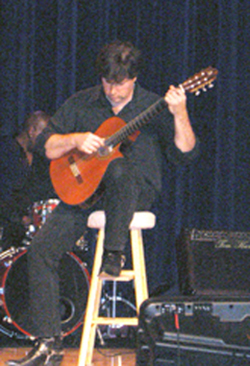 Performing at Skokie Theater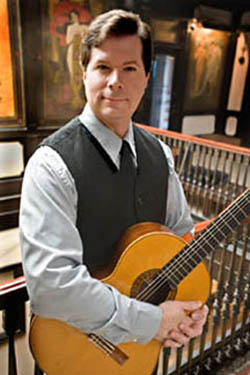 Performing with DanceWorks Chicago
2010


Symphony Hall building
2010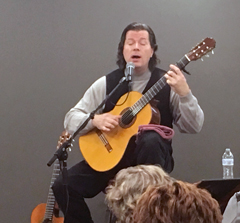 Warrenville Public Library
2017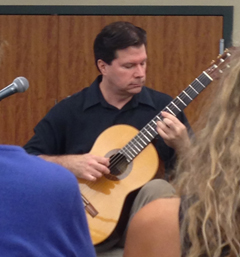 Wheaton Public Library
2014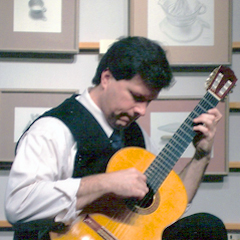 Wilmette Public Library
2009 and 2012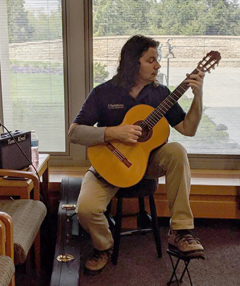 Performing for patients at the Kellogg Cancer Treatment Center in
Glenview, IL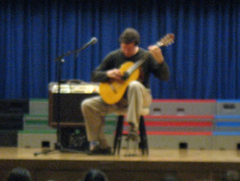 Concert at elementary school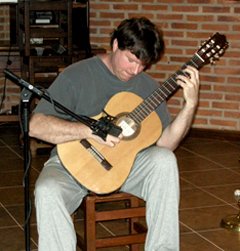 Impromptu concert in Luhan, Argentina
2009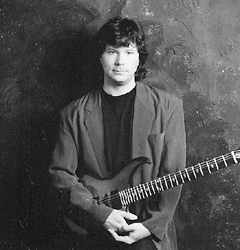 Music artist in the 90's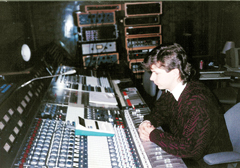 Sound Engineer, Producer, Session Guitarist
Universal Recording, Chicago
1989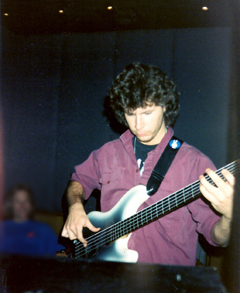 Bass guitar at music session in LA
1991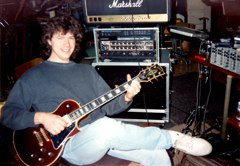 Session guitarist and sound engineer for songwriters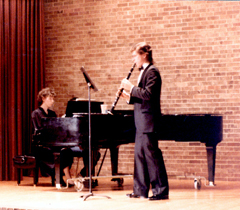 Clarinet soloist at DePaul recital hall
1985

Performed on Microsoft/Bungie's
HALO 2 videogame soundtrack, 2003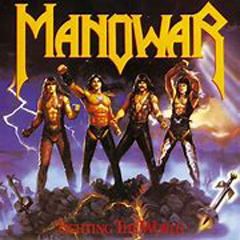 Performed as ghost guitartist for
Atlantic Record's Manowar, 1989


<

May, 2019
From Marjie Petroff, Property Manager at Prairie Ridge Senior Campus:
"Tom has a wonderful way to relate to our Seniors. His mixture of music is fun and relaxing. His skill on the guitar is amazing and wows the crowd. I will certainly have Tom back for our Seniors to enjoy."

And a couple more quotes from some Prairie Ridge residents:
"I had a lovely evening listening to Tom. He plays guitar beautifully and we enjoy his singing also."
"It is so relaxing to spend time listening to Tom play. He was thoroughly enjoyable!"
"Enjoyed listening to Tom. Can we have him back?"



August, 2018
A reply from the famous Mason Williams after he listened to my two recorded versions of his song "Classical Gas" which won him 3 Grammy's in 1969.
"True to the composition and well played!"

Mason's publisher wrote about my recordings,
"By the way, you are an excellent player, making every note distinct; and I really like the little "trills" you add to the song. You make it sound your own. (Frankly most players covering it do not.)
Very exciting! Best of luck to you with your project; well worth it!"



June, 2015
"You were a huge part of the reason everyone had such a good time. Our very sincerest thanks to you for an outstanding performance which we will always treasure."
PC Burnett



June, 2015
"My friend at the party blissfully recounted her pleasure in having a performer of your caliber sing at the party. Her superlatives were far too numerous for me to type here, but it suffices to say that she was most impressed by your voice, guitar playing, and your ability to sense and then adapt your performance on the fly, so to speak. It was be a good night for all of us because of you, your professionalism, and your God-given talent, Tom. I could not be more pleased! And I sincerely thank you, Tom."
P. Dunning



May, 2015
"...It has been an even greater pleasure listening to your CD. I so enjoy your musicianship."
Audris Griffith, Principal at Deerfield High School



July, 2009
"I am writing on behalf of the Norwood Life Care Foundation regarding the musical performances of Tom Krol at our grand opening celebrations during the second week of June, 2009. Tom Krol was asked to perform on two occasions for our organization. The first was a grand opening party for a building project our Home has been working on for several years. This party was being held for VIPs, politicians, Board members, and large donors so it had to be perfect. Tom played classical guitar in our new rooftop restaurant and his music created exactly the ambience we were looking for.

The tones of his guitar were soft and mellow and created an inviting atmosphere for our guests. Given the nature of our guests in attendance, mood and atmosphere were important for our event. In addition to a wonderful musical style and sensibility, Tom was the consummate professional; punctual, easy to deal with, and cordial.

Tom was also asked to play another similar event at our Home two days later, this time for a different set of guests. Once again, he was punctual, accommodating, and his music was much-appreciated by staff and guests alike. I would not hesitate to recommend Mr. Krol to other organizations in need of musical entertainment. His rates are reasonable, his professionalism abounds, and, most importantly, the music is great!"
Bryan Manasse
Development Coordinator
Norwood Life Care Foundation



September, 2014
"Thank you so much for performing at the library! It was definitely a success, and your beautiful music was perfect for the main level of the library. I could tell that everyone (including staff!) enjoyed it. I attended a programming librarian networking meeting yesterday and included your information for recommended programs. Will definitely keep you in mind for future concerts!"
Courtney Tedrick
Programming Coordinator
Wheaton Public Library



January, 2013
"Tom Krol appeared at the Wilmette Public Library for solo concert of classical guitar and vocals in a program of music from ten different countries. Not only was the music elegant, but Tom's banter between selections was interesting and created great rapport with the audience."
Bonnie Forkosh
Head of Community Services
Wilmette Public Library


October, 2012
"Your music sounded wonderful and helped make our day special!"
Jennie H.